The long awaited day is here and the first book in my Nevermore series, Twin Souls, is now completely FREE on amazon! To get your free copy just click this image: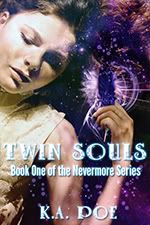 After you follow the link just click the buy button in the top right. Don't worry, it is completely free for these three days! If you have not used Amazon before or do not currently have an account with them, it may ask you to enter your billing address. Again, doing this is completely safe and will not bill you!
Also don't forget that downloading the book while it is free will get you ten raffle tickets for the Amazon Gift Card drawing! -
HERE
Thank you all for the support, and I hope you enjoy the book!